Melbourne's Best Sporting Memorabilia Framing
for Football Jumpers
Some things are just too important to sit on the shelf! There are so many different items that should be on display, and our unique sporting memorabilia jumper framing in Melbourne is offered to help you savour and cherish some of the greatest moments in history, all at an affordable price.
Rugby and footy jumpers, memorabilia and medals look superb when framed. Here at The Picture Factory, we offer custom solutions to ensure you get the prefect frame to preserve your memories. We frame items such as:
Sporting jumpers
War medals
Sports memorabilia
Balls
Ribbons
Premium quality rugby and footy jumper framing in Melbourne
No item is exempt from our custom framing. We can customise your past achievements and memorabilia in any shape or size you desire. Our staff will ensure your item is framed to the highest standard.
With extra mats, box frames and plaques available, your precious memories can be preserved for years to come. When looking for football jumper framing in Melbourne, you can't go past our company of experienced professionals!
For individual picture framing in Australia – choose the experts!
Long term preservation with the framing of your football jumper or other sporting memorabilia
We have a number of standard and custom picture frames in our store. Our frames will allow you to store and display your precious sports memorabilia for a lifetime. We specialise in certificate framing, custom mirrors, custom framing and block mounting in Melbourne so our customers can display treasured items in quality frames.
Having your items framed with us will ensure you can pass them on to each generation.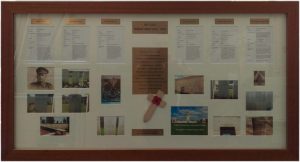 Computer Cut Mats
We're proud to now offer computer cut mats. This means that just about any shape is possible, so there are now more options to make your memories shine.

Multiple double mat openings are now easier than ever, thereby making them an excellent and cost-effective way to enhance your work. Previously, with the time taken to cut multiple double or triple mat windows, the cost would be prohibitive except for the highest end frame jobs. We can now produce the same work for little more than the cost of a single opening mat.
Shadow Box Frame
Lettering and creative debossing are also offered, again at cost-effective prices. Some logos and trademarks can be debossed (with owner's permission) onto the mat, personalising the signature pieces.
To learn more about our memorabilia framing, custom framing, block mounting Melbourne or picture framing Australia wide, call (03) 9459 1777 or visit our store today!
Why Choose Us?
We're experts in creating frames to display your memorabilia, football jumper or medals in a unique way. Our customised sporting memorabilia framing allows you to cover your treasured items in any shape or size.
We specialise in mat board cutting and can shape the frame backing to complement the object within.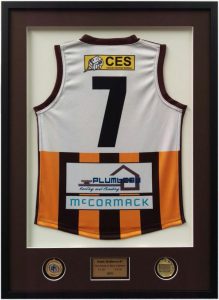 All of our frame services are completed to a high standard. Be it memorabilia framing, laminating, custom mirrors or block mounting for Melbourne clients, we can deliver.
The Picture Factory offers genuine frame solutions encompassing:
Customised and standard design
Fast turn-around times
Cost effective solutions
High quality frames
Get in touch today for further information
For more information on certificate framing, block mounting Melbourne, or footy jumper and sporting memorabilia framing Australia wide, call The Picture Factory on (03) 9459 1777 today or submit an online form.